Asian women can absolutely look lovely in a bikini. They certainty don't need a 40 inch butt that calls out for attention. Subtlety is the key word here. Slender, soft edged bodies that lead out to a meek proportionate bottom. I love the peachy glow found mostly only on Asian women. If they were a season, they'll be mostly definitely be Spring.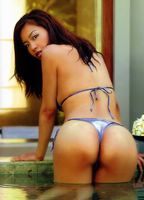 Related Posts
Asian Bikini Booty Brigade. Who are they?
Asian Bikini Bottoms. Part One.
Asian Bikini Booty. Jyuri Takahashi's posing style.
---
Technorati Tags: asian+babes, bikini, gravure, swimsuit+models, thongs,